38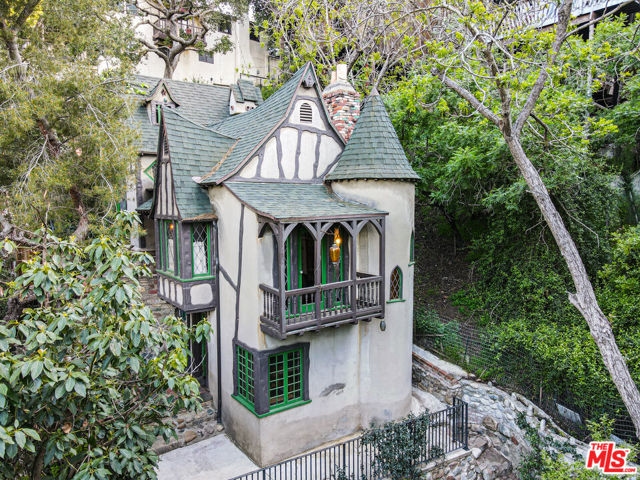 Los Angeles, CA 90068
Property Details
This secret fairytale cottage in the Hollywood Hills grants the convenience of the city without compromising the lush rural charm unique to the secluded canyon it's hidden within. The design matches the style of Roland E. Hill, legendary architect of the Disneyland Castle, complete with castle turre...ts, spiral stone stairs, bridges, hewn timber beams, and balconies with canyon views. The house has been further upgraded by the award winning designer Joshua Cain of Saxony Design build, with intricate woodwork, stained glass, and leaded windows. Upgraded comforts include the spacious bathroom shower, smart home heating and cooling for both bedrooms, and modern appliances. The state of the art accessories are seamlessly integrated alongside the cozy old-world luxuries, including a living room fireplace, hand-carved wooden balcony, and designer kitchen cabinets reminiscent of Snow White's House. This unique three story house is nestled between two garden areas, including a fenced in grassy yard with a pond, waterfall, wooden bridge, and stone stage with outdoor electrical capacity ready for a hot tub.
Property Type
Single Family
Interested in this property ?
Get in touch for a personal or virtual visit.